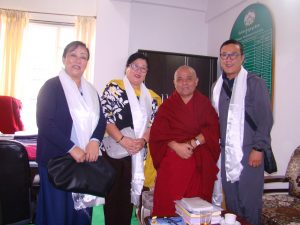 Deputy Speaker Acharya Yeshi Phuntsok along with Dorjee Namgyal, former MLA of Sikkim
Dharamsala: Dorjee Namgyal, former MLA along with some officials from Sikkim visited Tibetan Parliament-in-Exile earlier today.
Deputy Speaker Acharya Yeshi Phuntsok received them at his office and thanked Sikkim government and people for supporting Tibet's cause and Tibetans for such a long time, especially for supporting Tibetans dwelling in Sikkim.
He then briefed them about Tibet's issue, evolution of Tibetan Parliament-in-Exile, democratization of Tibetan polity, current situation inside Tibet, process of organizing 7th World Parliamentarians' Convention on Tibet in Riga, Latvia from 7 May to 10 May 2019, and Sino-Tibetan dialogue.
Thereafter, He further spoke about visitation program of the 16th Tibetan parliament-in-Exile to Tibetan settlements and communities across India and to different countries to meet politicians, officials and Think tanks to update current situation inside Tibet and to garner more support for Tibet.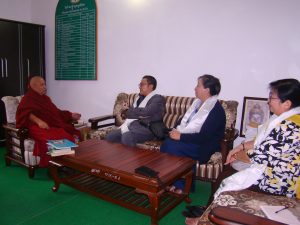 Deputy Speaker Acharya Yeshi Phuntsok briefing about Tibet's issue to the guests from Sikkim
He also briefed them about the former MPs from Sikkim who have supported Tibet's issue and the Tibetan parliamentary delegation who got opportunity to meet Sikkim's state head, ministers and officials.
Finally, Deputy Speaker presented books related to Tibet's issue while briefly explaining each of the books and urged them to continue supporting Tibet's issue. They expressed their appreciation for enlightening them on so many things.
Dorjee Namgyal is a former MLA from Sikkim, who had previously visited Dharamsala and had the privilege of having audiences with His Holiness the Dalai Lama several times. He was also present at the 50th Anniversary of Tibetan Democracy Day in South India and Thank you India event in Delhi as a guest.