Dharamshala: As per the 16th Tibetan Parliament-in-Exile's Tibetan settlements visitation and assessment program, Parliamentarian Khenpo Jamphel Tenzin visited various Tibetan settlements and communities of Nepal viz. Kathmandu; Boudha; Jorpati; Phagshing; Samdupling, Jwalakhel; and Phunling. He began his visitation program on 10 July and concluded on 23 July 2019.
On 10th July, Parliamentarian Khenpo Jamphel Tenzin along with associated staff discussed and made tentative program for the visitation program in Nepal and Khenpo was briefed about the places that he was going to visit.
Next day on 11th July, Parliamentarian Khenpo Jamphel Tenzin met with associated settlement heads and staff of Nepal to discuss matters from each settlements, how to reach each settlement and prepare program.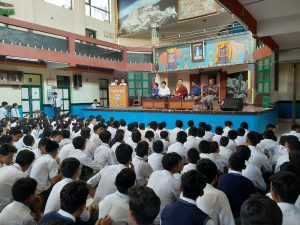 Parliamentarian Khenpo Jamphel Tenzin addressing teacher, staff and students of Namgyal High School
According to the program, they have decided to visit the border areas on 12th July because of the ongoing Guru Bumstok (100,000 tsog offerings to Guru Padmasambhava) at Kathmandu but the occurrence of a sudden landslide that resulted in blockage of road to the border areas hindered the visitation program to Solukhumbu, Walung, and Rasuwa.
On 14th July, Parliamentarian Khenpo Jamphel Tenzin visited and addressed Dupthop Monastery, Youlo Koe Monastery, Jonang Monastery, Tsogyal geyphel old age home, Taki Nunnery, Azom Monastery and Rigonchoeling Monastery.
Thereafter on 15th July, Parliamentarian Khenpo Jamphel Tenzin visited Monasteries, school, and Nunneries around Phakshing.
Starting with Phagshing Zarong Thupten Mindrol dongag Choeling monastery, where Khenpo advised monks to study diligently. Followed by a visit to Namgyal Middle School, where Khenpo was warmly welcomed and briefed about the school by Principal Lobsang Thapkhe. The school was established in 1981 and it has a total of 345 students (which includes only 107 Tibetan students), 24 teachers and 24 staff. He then visited Triten Norbutse Monastery, Kyirong Thupten Choeling Nunnery, Tibetan Women Association's old age home, and Khangpa Marpo.
Later on the same day, he held a meeting with members of Local Tibetan Assembly; members of Regional Tibetan Freedom Movement and staff of Gyasa-Phagshing cluster Tibetan communities to discuss important matters related to the cluster Tibetan communities.
Parliamentarian Khepo Jamphel Tenzin continued his visitation program by visiting scattered Tibetan communities around Chojor (Boudha and Jorpati) on 17th July. He visited and addressed people of Dikyi Khangsar Tibetan Settlement, Shelkar Gaden leksheyling Monastery, Tsering old age home, and Thekchok Ling Nunnery.
He also visited area's Men-tse-khang, health care center, homes of settlement people, settlement office of Choejor, Thekchenling Monastery, Songtsen Bhrikuti Boarding High School, Rongshar Chubar Gaden Monastery, and Porong Palmo Choding Monastery.
He later visited and addressed monks and nuns of Kopan Monastery and Kopan Nunnery. He also visited Kanying ShedupLing Monastery and Kyirong Tashi Samtenling Monastery.
He also visited Atisha School and later addressed people of Jwalakhel Tibetan Settlement and answered questions asked by the people.
On 20th July Parliamentarian Jamphel Tenzin had a meeting with dignataries; heads of Tibetan Settlement; Head of Sherig Parkhang; and Principal and dialectic teachers of Namgyal High School, Namgyal Middle School, Songtsen School, and Atisha School. In the meeting, they exchanged thoughts and discussed on various important factors. Khenpo answered questions asked by the participants and clarified their doubts.
Even though Khenpo was scheduled to visit Solukhumbu on 21st July, but due to unfavorable weather condition, the flight got delayed until next day, so he visited Chusang Monastery and Namgyal High School on that day.
At Namgyal High School, Principal, Dialectic teacher, staff and students of the school welcomed Khenpo. He was briefed about school's annual report and presented dialectical debate and cultural dance. He then spoke about responsibilities of teachers and advised them to keep good motivation. At the same time, he advised students to respect teachers and study diligently to lead a meaningful life.
Khenpo could not make to Solukhumbu even on 22nd July as his flight and all other flights to Solukhumbu got cancelled but later on the same day working committee members of Dokham Chu-Shi-Gangduk invited him to a lunch.
On 23rd July, he concluded his visitation program by wrapping up all the remaining works and summarizing the report. He returned from Kathmandu on 24th July 2019.
During the visitation program, 3 general meeting with the local authorities of Tibetan communities were conducted and a total of 15 public addresses were given. He visited 19 Monasteries, 4 schools, 3 Old Age Homes, 2 pilgrimage sites, 13 organizations and most importantly 3 Embassies.
The visitation program concluded successfully with their comprehensive inquiry about the conditions general public, monasteries, and schools. The grievances as per chronicled by the parliamentarian Khenpo Jamphel Tenzin will be forwarded to the related departments of the Central Tibetan Administration under the Cabinet for effective grievances redress.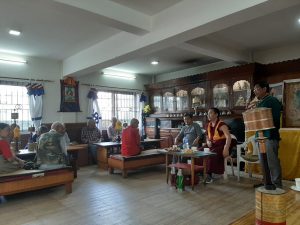 Parliamentarian Khenpo Jamphel Tenzin at an old age home