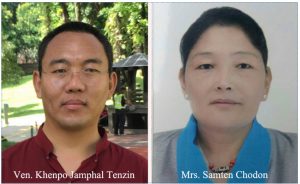 Dharamsala : As per the Tibetan settlement visitation/assessment program by the 16th Tibetan Parliament-in-Exile, Parliamentarians Ven. Khenpo Jamphel Tenzin and Mrs. Samten Chodon are scheduled to visit Tibetan settlements in Ladakh from August 23 to September 10.
Parliamentarian Ven. Khenpo Jamphel Tenzin will arrive at Delhi on Aug 23 while Parliamentarian Mrs. Samten Chodon will depart from Bangalore on Aug 23 and reach Delhi the next day. From there, the two parliamentarians will depart for Ladakh on Aug 25 and thereafter, commence with their program till Sept 10.
They will commence with their program at Tibetan settlements in Leh for 7 days, while also attending the celebration of Tibetan Democracy day there. From Sept 3 to 7, they will continue with their program at Jangthang and thereafter, from Sept 8 to 9 at Kargil and Srinagar.
They are scheduled to return to their respective places via Delhi from Bangalore on Sept 11.