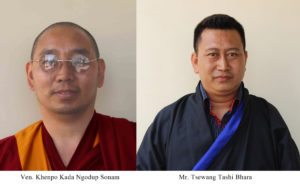 Dharamsala: As per the designated settlements visitation program by the 16th Tibetan Parliament-in-Exile, Parliamentarians Ven. Khenpo Kada Ngodup Sonam and Mr. Tsewang Tashi Bhara to visit the Tibetan settlements in North-Eastern part of India, viz., Kolkata, Jalpaiguri, Siliguri in West Bengal and Gangtok, Ravangla, Lachen, Lachung in Sikkim from Oct 18 to Nov 4.
Ven. Khenpo Kada Ngodup Sonam will depart for Delhi from Dharamsala on Oct 18 and from there, he will leave for Siliguri on Oct 20. Mr. Tsewang Tashi Bhara will be setting out for the same destination from Dhanbad, Jharkhand.
From 21 Oct, they will start with their pre-defined program upon their arrival at Kalimpong and will continue with the visitation of other settlements till Nov 3.
They are expected to leave for their respective residences on Nov 4.