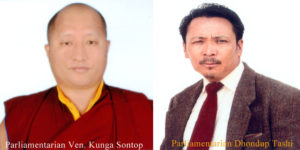 Dharamsala: As per the designated settlements visitation program by the 16th Tibetan Parliament-in-Exile, Parliamentarians Ven. Kunga Sontop and Mr. Dhondup Tashi will be visiting various cities in Bihar, Uttar Pradesh, West Benagl and Odisha viz., Gaya and Patna in Bihar ; Purulia, Varanasi, Gorakpur, Lucknow and Allahabad in Uttar Pradesh; Tata Nagar, Dhanbad, Ranchi and Bhubaneswar in Jharkand; Asansol in West Bengal and Balasor (Baleswar), Cuttak as well as Phuntsokling Tibetan settlement in Odisha.
They are scheduled to leave for Delhi on Oct 2 and set out for Phuntsokling Tibetan settlement the next day.
They will commence with their pre-defined settlement program upon their arrival at the said settlement on Oct 4 and shall continue with their program till Oct 13.
They are expected to return to Dharamsala on Oct 15 and leave for their respective residences on Oct 17.
The purpose of this visit is to meet and assess the grievances of the Tibetans residing there for livelihood purpose and studies. The probability of visiting all the aforementioned places is dependable on the situation at the ground level.