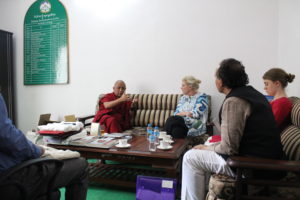 DHARAMSALA: PEN International President Ms. Jennifer Clement and Director Mr. Carles Torner were received by the honorable Deputy Speaker Acharya Yeshi Phuntsok of the Tibetan Parliament-in-Exile at Tibetan parliament Secretariat on 2th May.
They spoke for an hour during which they discussed ways to promote Tibetan language and culture across the world.Mr. Carles Torner expressed the need for more awareness about Tibetan language, culture, and religion in the world in the future and further suggested to report the situation prevailing inside Tibet through international gathering in the world.
Then Deputy Speaker explained about the past and present political situation of Tibet and systems of the Tibetan parliament-in-Exile. He thanked them for their continuous support in the promotion of Tibetan language and culture through PEN Tibetan association. He urged them to support the Tibetan movement led by the central Tibetan administration.
After that, he took them to visit Parliament.