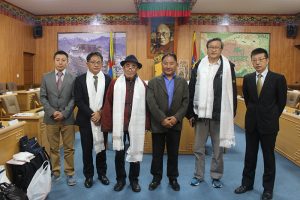 Speaker Pema Jungney with the Southern Mongolian delegation on 7 November 2019
Dharamsala: A Mongolian delegation from five different countries, headed by Mr. Tenchireto from Germany, visited Tibetan Parliament-in-Exile on 7 November 2019.
Speaker Pema Jungney of Tibetan Parliament-in-Exile received them in his office and had an in-depth interaction with the members of the delegation.
Speaker thanked them for their support for the Tibetans and elucidated on the historical relationship between Tibet and Mongolia.
He explained the evolution of the democratic polity of exiled Tibetans that has been established on the basis of His Holiness the Dalia Lama's vision and blessing.
He further spoke about the democratization initiatives, like social reforms and Sino-Tibetan dialogue, taken by His Holiness the 14th Dalai Lama at an early age of 15 when he was given the responsibility of whole Tibet.
Following His Holiness the 14th Dalai Lama and some 80,000 Tibetans' escape into India in 1959, Tibetan representatives from all three provinces and religious sections offered a long life prayer to His Holiness the 14th Dalai Lama and vowed to stay united like a strong iron globular mass under the leadership of His Holiness the 14th Dalai Lama, and promised to be of service to the Tibetan cause on 3rd Feb 1960 at Bodhgaya.
At that time, His Holiness advised Tibetans to set up an elected body comprising three representatives from the three traditional provinces and one each from the four schools of Tibetan Buddhism. 13 representatives termed as 'Deputies' and designated as the 'Commission of Tibetan People' Deputies' (CTPD) which is now called 'Tibetan Parliament-in-Exile', took their oath on 2 September 1960, this historic date is now celebrated as 'Tibetan Democracy Day'.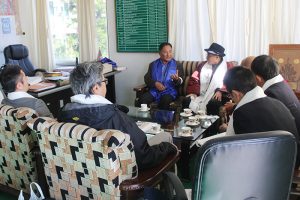 Speaker Pema Jungeny speaking to the Southern Mongolian delegation at his office
Thereafter, Speaker spoke on the unique features of Tibetan democratic polity being unicameral system, difference between constitution and charter, and Middle Way Approach.
Mr. Tenchireto shared his experience of visiting Tibetan Parliament-in-Exile in 2015. He also expressed Mongolians strong faith in His Holiness the Dalai Lama considering the embodiment of Buddha.
Their purpose of visiting Dharamsala was to attend the 8th International Conference of Tibet Support Group and to learn and discuss on 'Mongolia-Tibet Cultural Symposium'.
Speaker then spoke on the importance of studying historical relationship between Mongolia and Tibet as the two countries have strong cultural and religious relations.
Finally they visited the Parliament hall.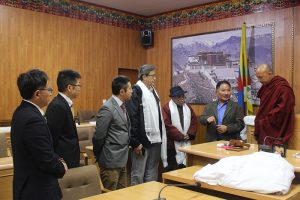 Speaker Pema Jungney explaining seating arrangements of Parliament hall to the Southern Mongolian delegation at the Parliament hall