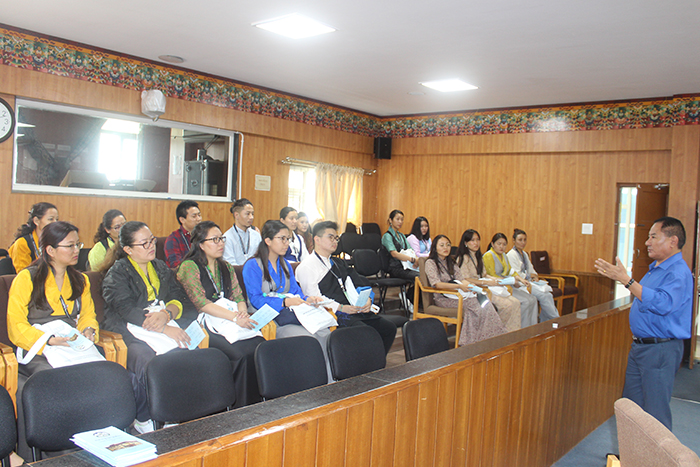 Dharamsala: Speaker Pema Jungney of Tibetan Parliament-in-Exile meets and addresses participants of Second 'Five-Fifty Youth Forum: Shaping Tibet's Future' convened by the Department of Information and International Relations (DIIR) of Central Tibetan Administration from August 16-19, 2019 at Parliament hall earlier today.
Speaker spoke about Tibetan democracy that was bestowed to Tibetans by His Holiness the 14th Dalai Lama, unlike other democratic countries where people fought and sacrificed their lives for democracy, he then elucidated in detail regarding establishment and evolution of Tibetan democratic Polity.
Following His Holiness the 14th Dalai Lama and some 80,000 Tibetans' escape into India in 1959, Tibetan representatives from all three provinces and religious sections offered a long-life prayer to His Holiness the 14th Dalai Lama and vowed to stay united like a strong iron globular mass under the leadership of His Holiness the 14th Dalai Lama, and promised to be of service to the Tibetan cause on 3rd Feb 1960 at Bodhgaya.
At that time, His Holiness advised Tibetans to set up an elected body comprising three representatives from the three traditional provinces and one each from the four schools of Tibetan Buddhism. 13 representatives termed as 'Deputies' and designated as the 'Commission of Tibetan People' Deputies' (CTPD) which is now called 'Tibetan Parliament-in-Exile', took their oath on 2 September 1960, this historic date is now celebrated as 'Tibetan Democracy Day'.
Deputies of first and second 'Commission of Tibetan People's Deputies' were initially assigned to four major departments and five branch offices. The number of deputies in second CTPD was increased from 13 to 17 with an additional seat reserved for a female deputy from each of the three provinces. In 1963, His Holiness promulgated the future Constitution of Tibet consisting of 10 chapters and 77 articles.
After the Interregnum period, the number of deputies in Tibetan Parliament-in-Exile, then called Assembly of Tibetan People's Deputies' were increased to 46, consisting 10 representatives from the three provinces that includes the 2 mandatory female representatives from each of the three provinces, 2 from each of four schools of Tibetan Buddhism and the pre-Buddhist Bon tradition, 2 from Europe, 1 from America and one to three representatives directly appointed by His Holiness.
He then shared information regarding oath-taking ceremony of the 11th ATPD on 29 May 1991 and subsequent adoption of the Charter of the Tibetans-in-Exile. Speaker further explained the participants the difference between Charter and Constitution, two parliamentary sessions, and functioning of Political, Administrative and Finance (Gyundrel) sections of the standing committee.
He also spoke about the special feature of the Tibetan democratic system being a unicameral or partyless system and advised them to learn the historical background of Tibet to shape Tibet's future.
Finally, the Speaker answered questions raised by participants and clarified their doubts.