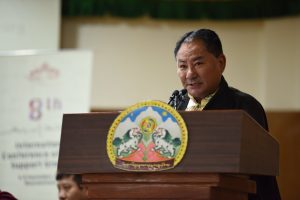 Speaker Pema Jungney of Tibetan Parliament-in-Exile addressing the 8th International Conference of Tibet Support Groups on 3rd November 2019
Tashi Delek and Welcome to Dharamsala. I hope you all had a pleasant journey on the way to Dharamsala.
Today, we are gathered here for this important conference, which solely aims to thank each one of you, who had, over the years, worked tremendously hard for the issue of Tibet. This platform specially defines your commitment, time, sacrifices, dedication and loyalty towards the just cause of Tibet. On behalf of all Tibetans in and outside Tibet and the 16th Tibetan Parliament-in-Exile, I offer my heartfelt gratitude to all of you, who have been a support system of our lives.
It is indeed a privilege to interact with you from time to time. Your presence in our movement revitalizes the hope of Tibetans inside Tibet and across the world in keeping Tibetan issue alive even after 60 years of exile and working hard towards its resolution.
During our earlier years of exile, Tibetan people and Central Tibetan Administration received minimum support and attention from the International community. However, in the late 1980s, His Holiness the 14th Dalai Lama, Central Tibetan Administration and very few Tibet Support Groups succeeded in gaining attention from international medias and public for the issue of Tibet. Thus in 1990, Central Tibetan Administration held the First International Conference on Tibet Support Groups in Dharamsala to bring more awareness about the issue of Tibet on a broader platform and to garner more support from the international community. Today, we have more than 250 Tibet Support Groups, who are working actively towards resolving the issue of Tibet.
Over the years, Tibet Support Groups advocated the issue of Tibet with their parliamentarians and appealed them to table the matter in their respective Parliaments, made awareness to their people in their respective countries, held rallies, conferences, seminars, strategise campaigns, organise peace marches and many other activities, which surely is noteworthy and we are indeed very thankful to all of you. Not only that, they pressured policy decision-makers of their respective countries to design policies for the betterment and support of the Tibetan movement.
I, hereby want to emphasize again that until 1979, Central Tibetan Administration and the Tibetan people adopted a policy of seeking independence for Tibet since Tibet was an independent country before the illegal occupation of Tibet by People's Republic of China. But then, with the changes in the independent status of countries and nationalities in the world, His Holiness the 14th Dalai Lama came up with the great vision of Middle Way Approach as the most sensible step in solving the conflicts of Tibet and China in the early 1970s. His Holiness being very pragmatic in real terms didn't impose His vision on Tibetan people. On the contrary, His Holiness held a series of discussions with the Chairperson and Vice-Chairperson of the Assembly of Tibetan People's Deputies (the then Tibetan Parliament-in-Exile), the Kashag (Cabinet) and many scholarly and experienced people on Middle Way Approach that he envisioned as an alternate solution to resolve Tibetan issue. Particularly in 1979, the late Chinese paramount leader, Deng Xiaoping's proposal to His Holiness the Dalai Lama "except independence, all other issues can be resolved through negotiations", further convinced the belief in resolving the issue of Tibet on a mutually beneficial solution. Above that the confirmation of Tibetans and the suggestions from Tibet, paved a way towards the unanimous adoption of this policy- Middle Way Approach, in the Assembly of Tibetan People's Deputies on 18 September 1997. Eventually, this approach was adopted democratically and evolved gradually. This peaceful approach meets the realistic interest of both Tibetan and Chinese people and clearly implies of not seeking independence, but a genuine autonomy within the framework of the People's Republic of China. Though it is very obvious that in history, Tibet has been an independent country. Furthermore, yet again after the majority support on Middle Way Approach from Tibetan people during the 2008 Special General Meeting held in Dharamsala, Tibetan Parliament in Exile adopted a unanimous resolution to this policy on 20 March 2010. Therefore, I appeal to each one of you to support the Middle Way Approach in solving the just cause of Tibet and thereby strategise ideas and policies in the interest of both the people of Tibet and China.
There has been seven International Conferences on Tibet Support Groups and in all these conferences, Central Tibetan Administration has, again and again, requested you to acknowledge this mutually beneficial steps in solving the cause of Tibet and today on this 8th International Conference too, we appeal you once more to follow the Middle Way Approach in working towards Tibetan movement. As you all are aware that this Approach is the political stand of the Central Tibetan Administration.
Besides that, Tibet Support Groups has constantly advocated the worsening human rights situation inside Tibet, the degrading environmental situation, the enforced education policies, the damming projects, the reincarnation process, the appointment of Special Coordinator for Tibet in the United States of America & European Union. And most importantly, the appeal to resume the dialogue of Chinese counterpart with the Representative of His Holiness the Dalai Lama or Central Tibetan Administration. We are indeed thankful to you for working towards these important endorsements.
Likewise, we are thankful to all those Parliamentarians and Parliamentary Groups for Tibet for passing the Reciprocal Access to Tibet Law, the adoption of Tibet Policy and Support Act of 2019, the US Tibetan Resettlement Project in the 1990s, Tibetan Resettlement Project in early 1970s and 2007 in Canada, adoption of resolution of European Parliament on the increasingly repressive regime on Tibetans and minority groups in China, Resolutions in support of human rights and religious freedom of Tibetans in Tibet specially referring to the right to identify reincarnation of Lamas without the interference of Chinese authorities, passing of resolutions and statements in solidarity with the Self –immolations. Moreover, we are appreciative of your voices towards release of 11th Panchen Lama, Jadrel Rinpoche and all those other Tibetan political prisoners inside Tibet and we urge you to continue raising your voice for their immediate release.
In the earlier Conferences, we had witnessed the participation of more and more Chinese scholars, writers, reporters, and human rights activists and even in this conference too, we have them supporting the just cause of Tibet. Since the adoption of this Middle Way Approach, the Chinese brothers and sisters too realize that this step is beneficial to both Tibetan people and them. There are now a growing number of Chinese people including the intellectuals, scholars, human rights activists, reporters, writers and laypeople, who are proposing and recommending their government to accept it and solve the long-standing issue of Tibet. Chinese brothers and sisters are now more open in their thoughts towards taking non-violence as the most viable step in resolving any conflicts with Tibetans inside Tibet. Likewise, they are opting for a democratic rule in China which accordingly will be significant to Tibetans inside Tibet and other minorities group within China.
Though it is very evident that you all had been actively lobbying the issue of Tibet with your parliamentarians but then we reiterate our request to inform and update your parliamentarians about the ongoing critical situation inside Tibet and appeal them to propose this urgency in their respective parliaments to call upon Chinese authorities to resort to peaceful policies inside Tibet and urge them to restart the dialogue process with Representative of His Holiness the Dalai Lama, which was at a standstill from 2010. There has been only 9 rounds of talks with the Chinese government since 2002. The Representatives of His Holiness the Dalai Lama during the 8th round of talks, presented the Chinese counterparts, a copy of Memorandum on Genuine Autonomy for the Tibetan People, which states the importance of the middle way approach for both China and Tibet. Then in the 9th round of talks, a note on Memorandum for Genuine Autonomy for the Tibetan People where it explained how the demands of the Tibetan people, as articulated in the memorandum given during the 8th round of talk, did not violate the Chinese constitution. So right after 2010, despite being made every effort by CTA, there was no positive response from Chinese authorities for further negotiations and thus we appeal each one of you to kindly advocate your parliamentarians to call upon the Chinese government to restart the negotiations to amicably resolve Tibetan issue.
This year in May, we had 7th World Parliamentarians' Convention on Tibet (WPCT) organized by Tibetan Parliament-in-Exile in association with Latvian Parliamentary Group for Tibet and International Network of Parliamentarians for Tibet, where Parliamentarians from all over the world declared the urgency of Sino-Tibet conflict resolvement and specially urge all parliamentarians to adopt the Reciprocal Access to Tibet Act, laws and adopt resolutions in their parliaments towards furthering the issue of Tibet.
Then just recently in October 2019, we have the Third Special General Meeting organized jointly by Tibetan Parliament-in-Exile and Kashag (Cabinet) wherein a resolution has been passed, calling on the Chinese Government that "the process for the discovery and recognition of the reincarnation of His Holiness the Dalai Lama, the entire task and power lies in His Holiness Himself and the duly empowered responsible officials of the Gaden Phodrang Trust of the Dalai Lama and in no way can any other entity, be it any nation, any government, any organization of whatever description, or any private individual." And this resolution outrightly rejects the efforts made and still being made by the government of China in the process for the discovery and recognition of reincarnations in Tibetan Buddhism in general and especially its coercive Order No. 5 declared in 2007 on the question of the recognition of reincarnations of tulkus and lamas in Tibetan Buddhism through which it sought to plot its interference in the recognition of the reincarnation of His Holiness the Dalai Lama. Moreover, it was declared that His Holiness the Great 14th Dalai Lama is the unsurpassable leader of the Tibetan nation and will continue as the ultimate protector-refuge of utmost recourse both for the present and the future Dalai Lama for a hundred aeons.
Lastly, on behalf of all Tibetans and Tibetan Parliament-in-Exile, I sincerely extend my utmost gratitude to all the governments, parliaments, non-government organizations and private individuals who have so far extended support and offered solidarity in this crucial period of Tibetan. The respective Tibet Support Groups constantly supported our Tibetan brothers and sisters in their respective localities and I urge you to kindly continue giving your support and assistance to them.
Within these three days of Conferences, I hope you all will come up with new strategies and framework policies in support of Sino-Tibet relations, which is in the betterment of our brothers and sisters inside Tibet who are still undergoing brutal repression under Chinese rule.
With this, I end my speech with a positive attitude and belief that your support will remain on us till the Tibetan issue is resolved. Today we are gathered here, not to agitate or conspire a planning to destroy China but we are here to convey the Chinese authorities that we are desperately willing to resolve the long-standing issue of Tibet through peaceful dialogue.
Wish all of you a very fruitful conference.
Thank you once again for your support.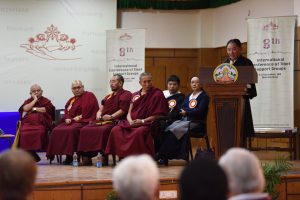 Speaker Pema Jungney of Tibetan Parliament-in-Exile addressing the 8th International Conference of Tibet Support Groups on 3rd November 2019