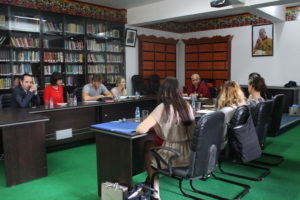 DHARAMSALA: Staffers of European Parliament Members were welcomed by the honorable Deputy Speaker Acharya Yeshi Phuntsok of the Tibetan Parliament-in-Exile at Tibetan parliament Secretariat on 22 May.
During the meeting, Deputy Speaker apprised them about the critical situation inside Tibet under the repressive policies of the Chinese Government and briefed the six International Parliament Conventions on Tibet. He also expounded them the constituency of TPiE and how resolutions are being passed in the TPiE.
He also added that the issue of Tibet is an issue of justice, truth, and human rights and the best way to resolve the issue of Tibet is through dialogue with the Chinese Government.
At the end of the meeting, Deputy Speaker presented books of TPiE. After that, they visited Parliament.