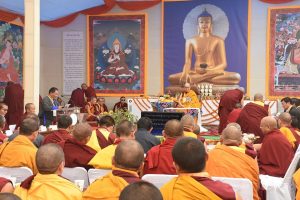 Today, on the first ever symposium on monastic education for upbringing future monks and nuns, I reverently offer my homage through body, speech, and mind to His Holiness the Great Fourteenth Dalai Lama, the head ornament in the domains of cyclic existence and of Nirvana including the heavenly abodes, the compassionate embodiment of all Buddhas, the spiritual master of all the teachings of the Buddha on this earth, the one who bears great affection for all sentient beings, Dharma Raja of the three realms, the champion of peace in this universe and the supreme leader of the Tibetan people. I, on behalf of Tibetan Parliament-in-Exile, respectfully extend my warm greetings to the Chief Guests, Sikyong and Supreme Justice Commissioner of Central Tibetan Administration (CTA); Special Guests, Minister of Religion and Culture and Minister of Education; Former Kalon Kyabjey Kirti Rinpoche; Former Kalon Tripa of CTA and advisor the symposium, Prof. Samdhong Rinpoche; my colleague Parliamentarians; scholars; Directors, Principals, Administrators, senior teachers, monks and nuns representatives from Monasteries and Nunneries of India, Nepal, and Bhutan; Directors and teachers of the Monasteries based in Dharamsala; representatives from organisations; Head and staff of Kirti Charitable Society; Monks of Kirti Monastery; and public.
In 1959, His Holiness the Dalai Lama followed by 80,000 Tibetans left Tibet and took shelter in India escaping China's invasion in Tibet. During the hard times, when sky and ground were only things familiar to them, the elder Tibetan generation under the leadership of His Holiness the Dalai Lama have strived in preserving Tibetan language, culture, religion, and identity. Rising from ashes, today Tibetan Buddhism have practitioners not just in Tibetan community but also in Himalayan region and western countries, only because of His Holiness the Dalai Lama's blessing. Unlike other religion, Buddhism can be studied with logics and analysis improving one's thinking capabilities, and has potential to bring peace in the world through its nonviolent and compassionate beliefs. It is necessary for the Tibetans to educate themselves with Buddhism, since people of the world are taking interest in Buddhism. Unlike other religion, Tibetan Buddhism at the brink of extinction spread across the world, and is something that can be boasted as even scientists are showing interest in it. This is the result of hard works, based on the teachings and aspirations of His Holiness the Dalai Lama, done by monks and nuns from monasteries and nunneries of different religious sections. I appreciate former Kalon Kyabjey Kirti Rinpoche and other dignitaries of the Kirti Monastery, based in Dharamsala, who endeavoured in resolving Tibet's issue and on social services, in addition to religious activities, which has served Tibet on both religious and political front. Today, I extend my heartfelt greeting on the 25th Anniversary of Kirti Monastery and my appreciation to the monastery for creating opportunity and environment for numerous monks to study Buddhism.
2019 is the 600th death anniversary of Jamgon Lama Tsongkhapa, whom we are always grateful for being the founder of Gelugpa in particular and Tibetan Buddhism in general.
It is ingenuity and a great undertaking of Kirti Charitable Society and Kirti Monastery to organise symposium on monastic education for upbringing future monks and nuns on this important occasion, which also is a big step in the implementation of His Holiness the Dalai Lama's advice. This symposium to bring the needed development in monastic education for upbringing future monks and nuns is definitely not early, if not late. So therefore, it is extremely important for the heads of the monasteries and nunneries to frame new strategies in the cultivation of genuine monks and nuns in future. I hope for a successful symposium based on strategies to educate monks and nuns; facilitate resources in classroom; to discuss on the qualities of teachers; to build environment for teachers and students to flourish; to accustom with moral education; to familiarized behavior of body, speech, and mind with the monastic disciplines; and most importantly to discuss on thought education. Even though, participants of the symposium are sincere with perfect noble intention, altruistic attitude, and have strong will to serve religion, politics, and race of Tibet, but being a human it is possible to have circumstances of opposition even to thoughts that are devoid of biased feelings during the discussion. So, I urged all the participants to think of the religion, politics, and race of Tibet for long run and take decisions accordingly. I fervently pray for success of this symposium and successful implementation of the suggestions adopted in the symposium.
Finally, I pray that His Holiness the Dalai Lama may live for a hundred aeons as the lord of the three realms and especially of the Tibetans that all his wishes may be seen fulfilled with spontaneity and the just cause of Tibet may be achieved in all speediness.