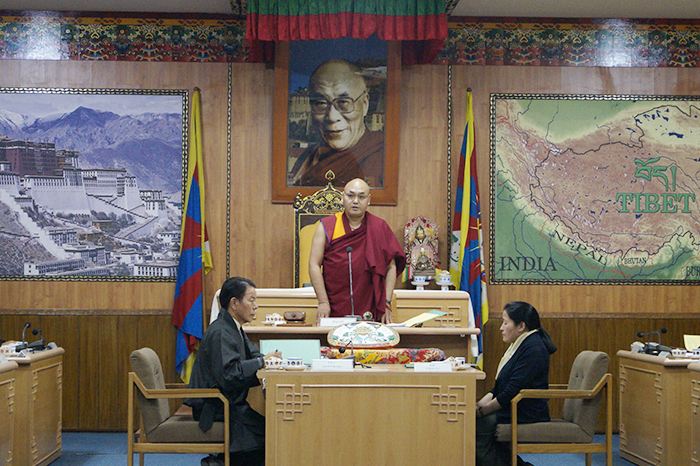 Dharamsala: The sixth session of the 16th Tibetan Parliament-in-exile for the fiscal year 2018-19, scheduled from Sept 18 till 28 for ten days, commenced today at 9:30 am.
Ascertaining the requisite quorum of the House, Speaker of 16th Tibetan Parliament-in-exile Ven. Khenpo Sonam Tenphel, in the presence of Sikyong Dr. Lobsang Sangay and his ministerial colleagues, and the fellow members of the parliament, began his session commencement address.
In his speech, Speaker spoke about the deteriorating situation of human rights and ecosystem inside Tibet. He also paid due tribute to His Holiness the Dalai Lama on his immense contribution towards both the Tibetan struggle and for the whole humanity at large. He also briefed the House on the agendas of the ongoing session by introducing the official obituary references, the appointment of Justice Commissioner etc. He also urged the members in the House to observe the code of conduct in accordance to the parliamentary etiquette and refrain from obstructing the business of the House, while keeping the interest of all Tibetans in mind.
Thereafter, in accordance with the 'Rules of Procedure and Conduct of Business of Session,' a panel of Chairmen and an Ad Hoc Committee was appointed.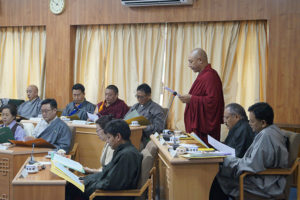 Following the agenda p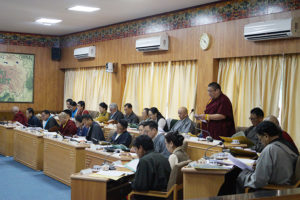 aper, Parliamentarians Ven. Geshe Monlam Tharchin, Ven. Geshe Lharampa Atuk Tsetan and Mr. Lobsang Yeshi presented the official obituary references on the demise of former Deputy Speaker late Chongye Khartsang Chukhor Dashe Gyapon Kelsang Damdul, former Prime Minister of India Late Sh. Atal Bihari Vajpayee and former US Republican Senator John McCain respectively. A minute of silence was duly observed in the House to mourn for the deceased.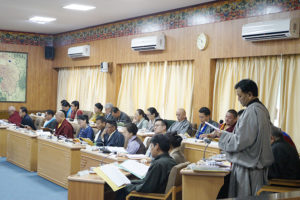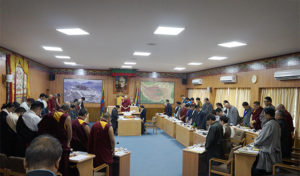 Parliamentarian Mrs. Juchen Kunchok Chodon presented the motion and resolution on solidarity with the Tibetans inside Tibet enduring harrowing atrocities in Tibet and the dire situation of Tibet, which was supported by Parliamentarian Mr. Dhondup Tashi Tsaneytsang.
The morning session was adjourned for a lunch break at 12:30.
Resuming the session at 1:30 pm, the House continued with debate and discussion over different views and suggestions by the members of the parliament, which arose in relation to the aforementioned resolution passed. Eleven parliamentarians participated in the said debate and discussion.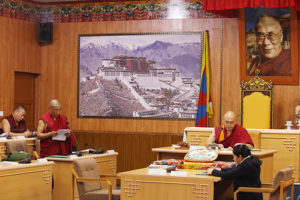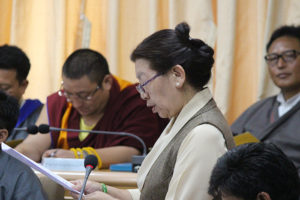 Ven. Karma Gelek Yutok, Kalon of the Department of Religion, thereafter, presented the précis 2017-18 annual report of its main ministry office as well as of institutions and monasteries under it. Parliamentarian Mrs. Dolma Tsering also presented the Standing Committee's reviewed report on the same.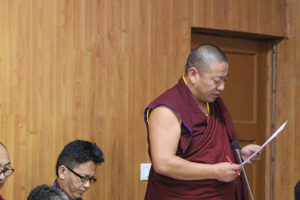 Accordingly, Parliamentarian Ven. Tenpa Yarphel tabled the motion for debate on the aforementioned reports, supported by Parliamentarian Ven. Lopon Thupten Gyaltsen, which shall be carried forward in the next day's list of business.
Four resolutions were passed today. Except for two with leaves, all the Parliamentarians attended the first day of the sessions. The first day of the sixth session adjourned at 5 pm in the evening.