Report by Tibet.net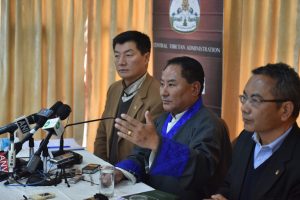 Speaker of Tibetan Parliament-in-Exile addressing the press conference on the third Special General Meeting of Tibetans to be held in October 2019. Photo/Passang Dhondup/CTA
Dharamshala: Pursuant to Article 59 of Tibetan Charter-in-Exile and the recommendations of the preceding Special General Meeting of the Tibetans, the Kashag and the Tibetan Parliament-in-Exile is convening the third Special General Meeting of Tibetans from 3 to 5 October this year.
The Special Meeting with the participation of Tibetan community leaders around the world will be inaugurated on 3 October in Dharamshala, the seat of Central Tibetan Administration.
The key theme of the meeting are 1) Five Fifty Vision and 2) The relationship between the lineage of His Holiness the Dalai Lamas and Tibetan people.
Inter-alia, the third General Meeting will focus on enabling full-scale participation of Tibetan civil society in the decision-making processes apropos to the key themes.
The second Special General Meeting was held from 25 – 28 September 2012 to "discuss ways and means to deal with the urgent and critical situation inside Tibet". Over 432 delegates from 26 countries, including India, US, and Europe participated.