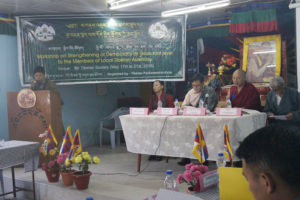 Bir: Tibetan parliament-in-Exile is organizing a five days workshop from 17th to 21st May on 'Strengthening of Democracy at grass root level to the members of Local Tibetan Assembly' at Bir.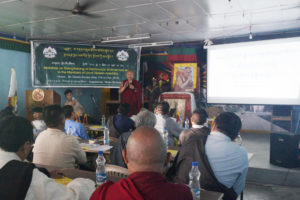 The workshop started on May 17,2018 at 9:00 am with a welcome note of Mrs. Dolma Tsering, Settlement Officer of Bir Tibetan Society (BTS) and Mr. Dargyal, Chairman of LTA, BTS thanked Tibetan Parliament-in-Exile for conducting the workshop and thanked the LTA members from various settlements for their participation. The resource persons for this workshop are Tibetan Parliamentarians Geshe Monlam Tharchin and Gyarik Thar Lukhang. 68 members from 7 different settlements are participating in the workshop. It is attended by Speaker & Deputy Speaker Of LTAs and Tibetan Settlement Officers from Bir Tibetan Society, Bir Dege, Bir Nangchen, Dalhousie, Kullu-Manali, Mandi and Lily village.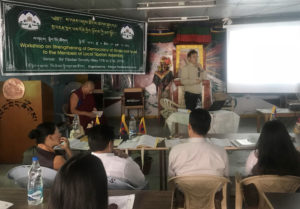 This is the third workshop conducted by Tibetan Parliament-in-exile for the members of the Local Tibetan Assembly. The first two were held at Shillong and Gangtok last year. The workshop aims to strategize LTA members on their skills towards strengthening democracy at grass root level and to impart knowledge on rules and regulation of the parliament proceedings, annual budget accounting. It mainly highlights the Charter of the Tibetan-in-Exile; Parliamentary Proceedings; Structure of CTA; CTA's Income & Expenditure, Budget Allocation and Guidelines; and Electoral Rules.
The workshop is funded by Friedrich Naumann Foundation (FNF) of Germany.