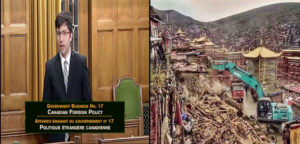 DHARAMSHALA: Deputy Speaker Acharya Yeshi Phuntsok of Tibetan Parliament-in-Exile today on behalf of Tibetan Parliament wrote a letter to express his gratitude to Mr.Garnett Genuis, a member of Canadian Parliament for raising the issue of Tibet in the House of Commons of Canada.
"I, on behalf of Tibetan Parliament-in-Exile and all the Tibetan people, would like to express my heartfelt gratitude for raising the issue of religious repression under the Chinese leadership by underlining the recent demolition of religious institutions in Tibet during the hour of Canadian Foreign Policy at the House of Commons in Ottawa on 12th June 2017."
"We thank the government of Canada, especially the Parliamentary Friends of Tibet Canada for welcoming His Eminence the 17th Karmapa, Ogyen Trinley Dorje to Canada." he wrote.
"We were deeply honored by your visit to Tibetan Parliament in Exile and the interaction with the standing committee in January 2016, which was indeed momentous for us. We thank you for being a strong advocate for the truthful cause of Tibet. Your steadfast support for the Middle Way Approach  inspires and encourages the entire Tibetans to carry forward our cause through non-violence and the negotiations."
"I look forward to your continued determination in advocating human rights and fundamental freedoms in days to come and I wish you all the very best for your future endeavors." he added.