US Ambassador Samuel D. Brownback along with Speaker Pema Jungney and Deputy Speaker Acharya Yeshi Phuntsok of Tibetan Parlaiment-in-Exile

Dharamshala: US Ambassador at large for International Religious Freedom, His Excellency Samuel D. Brownback graced a visit to the Tibetan Parliament this Monday.
His Excellency was accompanied by staffers from the US State Department's Office of International Religious Freedom: Riley Miller Barnes, Razi Hashmi and Mariah Jane Mercer and two officials from the US Embassy in Delhi namely Michael Edward Risenthal and Nicole Thiher.
Ambassador Brownback was received by Speaker Pema Jungney and Deputy Speaker Acharya Yeshi Phuntsok of Tibetan Parliament at the Speaker's office.
The Speaker and Deputy Speaker thanked the US government and people for supporting Tibet and Tibetans for 60 years. They said the situation inside Tibet is deteriorating with more than 153 Tibetans self-immolations in protest against the repressive occupation and destruction of Tibetan culture, religion and language at the hands of PRC.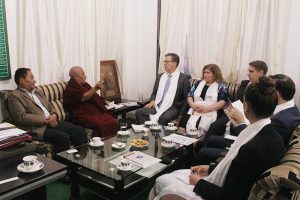 Speakers of TPiE speaking to US Ambassador Samuel D. Brownback and staffers

The duo also spoke about the worrying developments in Tibet, particularly referring to the new criteria issued by the Chinese government for Tibetan graduates applying for government jobs to criticize His Holiness the Dalai Lama in order to qualify for the position.
They also explained how Tibet has turned into a warzone state where political prisoners like Tulku Tenzin Delek and others are tormented to death.
They also discussed the 3rd Special General Meeting of Tibetans which strongly resolved to condemn any interference of China on the reincarnation of His Holiness the Dalai Lama while asserting that the supreme authority of His Holiness the Dalai Lama and his trust on the recognition of his reincarnation.
Their discussions also included the Riga Declaration and Action Plan adopted by the 7th World Parliamentarians Convention on Tibet held from 7-10 May 2019.
The Ambassador asked several questions to the Speaker and Deputy Speaker regarding the situation in Tibet and Tibet issue in general.
The delegation then visited the Tibetan Parliament hall.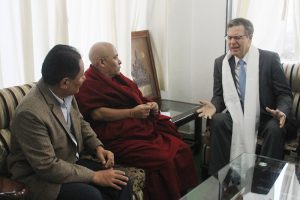 US Ambassador Samuel D. Brownback asking question to Speaker Pema Jungney and Deputy Speaker Acharya Yeshi Phuntsok of Tibetan Parlaiment-in-Exile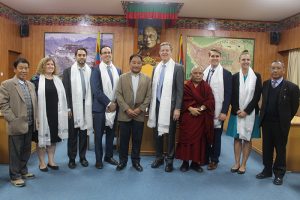 US Ambassador Samuel D. Brownback accompanied by three staffers from the US State Department's Office of International Religious Freedom namely Riley Miller Barnes, Razi Hashmi, Mariah Jane Mercer and two from the US Embassy in Delhi namely Michael Edward Risenthal and Nicole Thiher at Parliament hall on 28 October 2019